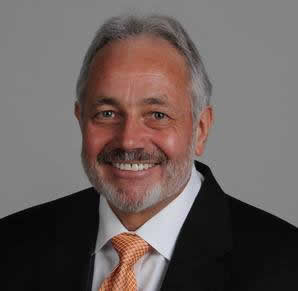 Ray Hagar
News and commentary from Nevada's Ray Hagar.
More Stories from Ray
---
Latest Articles:
'Rebel with a Cause' book: Tark's climb to basketball's pinnacle was slow & steady; his downfall at UNLV was swift & sad
Commentary - March 17, 2020
"We lose to Duke by two in the (NCAA tournament) semifinals when we were big favorites, Then all of a sudden, they forced my father out in six weeks after that loss."
Danny Tarkanian, speaking about his father's career as UNLV basketball coach
---
Federal government eases restrictions for truckers to help keep supply chain moving despite coronavirus
News - March 16, 2020
"The supply chain is still intact. Folks don't have to worry about getting food in the next few weeks because we do have plenty."
Paul Enos, CEO of Nevada Trucking Association
---
Coronavirus could lower crowds for NFL Draft in Las Vegas, Nevada Resort CEO says
News - March 6, 2020
"So we are hopeful people will still come. We are hopeful that the coronavirus will start to abate by then. You know, April 23rd is a long way off so there is a lot that can go on."
Virginia Valentine, president & CEO of the Nevada Resort Association.
---
No more big tax breaks for companies moving to Nevada, leading state official says
News - February 28, 2020
We should not be talking about (tax) incentives at this point. Not with a full economy and full employment."
Michael Brown, executive director of the Governor's Office of Economic Development.
---
More pressure from states needed to break congressional logjam on marijuana industry's access to banking, cannabis law expert says
News - February 27, 2020
"A lot of weaker players are going by the wayside, being bought up or going out of business because of the taxes. And the black market is still thriving and it is making it difficult for companies to make money."
Eva Segerblom, on Nevada's legal marijuana industry
---
Bob Cashell: A generous man and a perfect fit for job as Reno's mayor
Commentary - February 14, 2020
The job of Reno mayor was perfect for Cashell. He was so good at it. He was the public face of Reno.
Boss Cashell. He built coalitions, coaxed business leaders, got opponents and ankle-biters to like him. He gave us the downtown train trench and the Aces ballpark.
---
'Care giving' and the 'power of touch' are what many customers seek at Mustang brothel, says owner Gilman
News - January 31, 2020
"I would say maybe 40 percent of the business, maybe more, we do out there, I would call care giving."
Mustang brothel owner Lance Gilman
---
Elon Musk's underground 'people-mover' technology could someday spread across Las Vegas, says LVCVA chief
News - December 23, 2019
"We also see it as a real opportunity to solve some of the congestion problems in Las Vegas going forward. So it is helpful to start at the convention center, make sure that it works, work the kinks out and then look at the opportunity of moving into the city."
Steve Hill, LVCVA president and CEO
---
Las Vegas' Rogich, back-channel diplomat to China, worries protests may doom Hong Kong's strong banking sector
News - December 23, 2019
"We all agree that we need each other to co-exist on this thing called the Planet Earth,"
'Sig' Rogich, on diplomatic relations with Chinese counterparts
---
Clark school board candidate Wachter wants to boost student achievement
News - December 13, 2019
"The big thing the teachers are asking for is a reduction in class sizes. The biggest thing parents are asking for is a reduction in class sizes. But we have made no concentrated effort in the last several (legislative) sessions to address that issue.
Bryan Wachter. Clark County school board candidate
---